EDDM Postcards
Starting at $101.27
Printed on Premium 14pt. Cardstock
UV2 or UV1 Gloss
Custom Finishing Options
Super-Fast Turnaround
Single or Double-sided Printing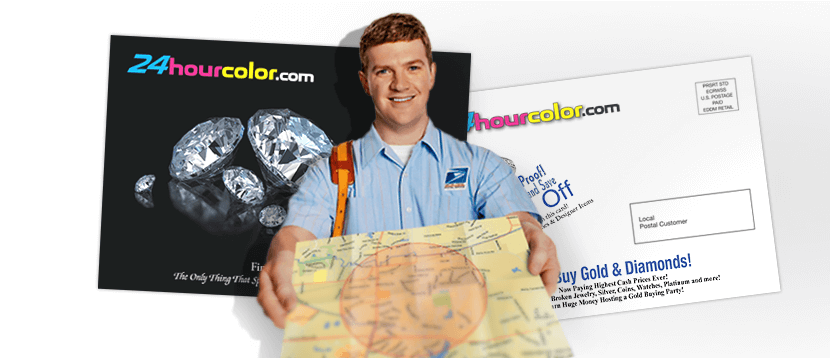 Direct mail postcards are a great way to reach a large group of customers in a particular geographical area, but a new promotion by the US Postal Service is making direct mail advertising cheaper and more efficient than ever. For as little as 16.5 cents a postcard, the USPS will mail your retail business advertisement to every door in a specified area you don't even need to have a mailing address!
With Every Door Direct Mail, there's no need to worry about postage permit costs, mailing lists and figuring out how to work with a business mail entry unit. Since EDDM is mailed through the Post Office, all you have to do is drop off your mailers at the Post Office and let them do the work for you, while you save money and avoid the hassle of traditional direct mail services. By eliminating the costs of maintaining a mailing permit and purchasing mailing lists, combined with a 66% savings on postage compared to First Class mail, EDDM will be an extremely powerful marketing tool for your business!
If you don't want to prep these orders to specifications or go to the Post Office yourself, no problem-we'll take care of that as well. Simply select the appropriate add-on once you choose your product.
Cardstock Mailers: 6.5 x 9, 6.5 x 11, 8.5 x 11
No postage permit is required Mailing a postcard through the Post Office the traditional way can cost up to $450 just to open an account. This annual fee has been waived for mailing EDDM retail.
No mailing list needed, the Post Office takes care of it! The post office is promoting a simplified address, which doesn't require the use of a costly mailing list. You simply include the words "Postal Customer" on your mailer and the Post Office will deliver it to the mailing routes that you request.
Larger format than a standard postcard and much cheaper At 6.5 x 11 and larger, these mailers give you over 3 times the amount of space as a traditional postcard. This increased visibility will help improve response, and at around 9 cents cheaper per postcard, it will save you money, too!
As easy as dropping off mail at the Post Office With EDDM, there's no need to go through the challenge of finding and understanding how to work with a business mail entry unit. EDDM Retail can be mailed from any Post Office, and you can pay with cash, check or debit card. With the ease of mailing a package, you can reach entire neighborhoods with your business's message.
Don't want to mail it yourself? No problem we can take care of everything for you!
Design your business cards right the first time by using a template. Our templates are setup accurately assuring your print job is produced properly. To download, click the download template button below:
Download Template
Step 1.

Choose Product

If you can not find the product you are looking for submit a custom quote here

Step 2.

Select Product Options

Size
Color
Turnaround Time
Coating
Etc.

Step 3.

Add Product to Shopping Cart

You will see an instant price for all listed products
Click the Add To Cart Button

Step 4.

Review Shopping Cart

Name Your Job
Select Shipping Method
Add Any Special Instructions
Once Satisfied Click The Checkout Button or Continue Shopping

Step 5.

Payment Page

Select Billing Address
Select Payment Method
Review and Accept Terms/Conditions
Click Complete Button

Step 6.

Upload Files

Upload Now
Upload Later
My Designer Will Upload
Files Are At A 3rd Party Download Source (i.e. ftp, dropbox, sendspace)